Beer Cheese Awards & Reviews - What People Are Saying
2022 The Taste of the South - Washington, DC
Since 2014 The Taste of the South in Washington, DC puts Howard's Creek Authentic Beer Cheese on the Kentucky Table again with rave reviews.
Judges Choice Award for Best Side at Taste of the Bluegrass - 2019
Judges Choice Award at Taste of the Bluegrass in Lexington for Best Side against 36 entries to benefit God's Pantry.
Jungle Jim's Big Cheese Fest, Fairfield, OH - Winner in 2015, 2016, & 2017
With over 1,400 cheeses from all over the world, Howard's Creek Authentic Beer Cheese won 2015, 2016 & 2017 "Best American Original" with 2 of those years "Best in Show." Participating since 2014 with the exception of 2020 - 2022 as covid prevented them from having this incredible event.
Beer Cheese Festival, Winchester, KY - 2009 & 2010
2009 Winner out of 35 Commercial Beer Cheese contestants 2nd Place - Judges' Choice and 2010 Winner out of 20 Commercial Beer Cheese contestants 2nd Place - Judges' Choice
Kentucky Woman - 2018
I live in Kentucky ! This stuff is THE VERY BEST there is. I understand the recipe is very old and once people taste this one, they don't want anything else. March 4, 2018
Deb Ober, Jenson Beach, FL
"I'm so glad my letter was published. (In the 2010 December Cooking Light magazine) I like to help nice people who are selling good stuff. We took (HC) beer cheese to Thanksgiving dinner at our friends' house yesterday and everybody loved it. I'll be sending in my Christmas orders soon. Thanks again."
Barbara Bailey, WKYT-TV, Lexington, KY
"It's Wonderful!!! You not only know your Beer Cheese, you know your history about it too."
Great to meet you at the Springhurst Liquor Barn in Louisville
I've been buying Howard's Creek ever since 2009. Thanks for keeping up the good work.
Lucky's Market, Kentucky, Iowa, Missouri and Florida!
We love your cheese!
Port of Subs - West Coast in CA, NV, ID, WA, OR, UT and AZ - 2012
Port of Subs celebrated their 40th year in business in 2012! Howard's Creek sent 2,400 pounds of cheese to start their year with an LTO sandwich in 148 stores in 7 states out West. Thank you Port of Subs for the opportunity to be on your menu... and congratulations on 40 years.... here's to the next 40!
Tim Allman, "JOE ALLMANS" SON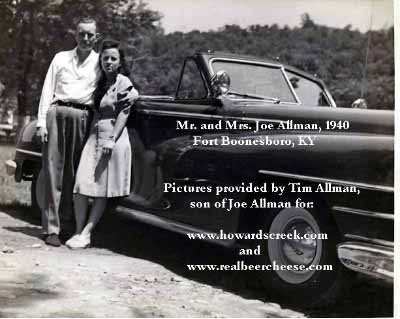 "Got the cheese today, and all I have to say is that you have it. You got it perfect, just the way my father made it. Brought back some memories when I took the first bite, and the aroma is right. My wife even went crazy over the cheese."
Tim Laird, CEO, "Chief Entertaining Officer," Brown Foreman, Louisville, KY
"Kathy, What a treat. You definitely have an incredible brand. I loved the spicy/creamy taste that is full of flavor with a nice balance of richness. I'm going to share this with several of our internal folks along with my producer. I love using Howard's Creek Authentic Beer Cheese in a variety of our recipes."
Sharon Thompson, Food Writer, Lexington Herald Leader, Lexington, KY
"Tell me the story again about when you served the beer cheese at the Lansdowne Club. And when you put it on the market."
Paul Koshgerian, Former President of Traxx Companies, Lexington, KY
"Congratulations! I knew it the first time I tasted it, that is was the real thing from back in the Allman and Hall's days. Brought back some great memories from my college days."
Cassie, Paula Deen Enterprizes
Hi Kathy! We did receive the beer cheese this morning, it looks delicious! I did put it straight in the refrigerator as noted. Paula gets in town this afternoon so I am going to make sure it goes over there tomorrow morning. I think we will keep one container here in the office so we can sample, just have to grab some crackers or chips! Thank you so much for sending it.
Suzanne Sadler, Lexington, KY February 2014
I work at Liquor Barn in Chevy Chase and I finally got around to trying this beer cheese! It was awesome even though I accidentally grabbed the spicy! I think I have a new addiction that is not going to be good for my diet but it's too good to stop!
Amy, Washington, DC
"YES - it is awesomely Gooooooooooooooooooood. If my birthday boys don't show up for theirs - I'm going to eat it too. Can't wait to buy my favorite crackers and have some more. You will be getting a multitude of orders from me from here on out. Let me know if you ever offer any discounts - like around Christmas time. That is what I am getting everyone for Christmas. Also, any way we could get a tub to Greece? My aunt lives there and her husband used to work for Borden as a chemist making, guesss what? Yep, cheese."
Alan Cole, FL
"Very Professional Product! Howard's Creek Beer Cheese has a distinctive flavor that let's you know the heritage is in the blend. "Kentucky Pride" is found inside. I put this on the table with my choice of chips and sliced vegetable to compliment a cool one for my friends. Try Howard's Creek, you deserve the experience!"
Mike - Happy New Year 2014
I found your beer cheese at a local liquor store. I really enjoyed the bite! I will buy more! Enjoy your New Year!
TC, Lexington KY
"It is so good to be able to get local delivery in Kentucky with out much of an extra charge, sometimes, none at all. We love it..."
Gretchen, Virginia
"I got your beer cheese, it's delightful, I love it, the only thing that I hate about it is that once you taste it you can't stop eating it, so that could be dangerous.... you produce the best."
"My darlin, If you would tell me how much the bracelets are, my assistant and I would love to come to the festival. My beer cheese sales are really going good here since I did the tasting. I'll do what i can to help make you number 1 honey."
Matt, El Paso, TX
"Got my Beer Cheese Fix !!!! Thanks grew up on Hall's and I have to say your Beer Cheese is Great !! rcvd today about 6 pm your time. I'm not sure (or worried ) If I'll get to share with friends. First container gone !!! I can see why you took first place !!! Hall's, if I remember right, is a close 2nd in taste to me. I would have to do a taste test to compare. You have a very satisfied customer and I will also be a returning customer as your product was a pleasure to buy and taste !!!! your product speaks for itself!"
Matt, Puccini's Smiling Pizza, Lexington, KY
"I'm matt from puccini's.. the guy that showed up with beth to deliver your food the other night... i just wanted to let you know that this is the best beer cheese i've ever had and i wanted to thank you for being so generous... it's always a pleasure talking to you guys.. im really glad to hear the cheese is starting to take off.. i hope everything works out great for you guys.. thanks again and take care."
Austin... from Lexington
I NEED BEER CHEESE....but only the best in the WORLD...Howard's Creek....I love you!!!
Glenn, St. Louis, MO
I had the great pleasure of tasting your beer cheese at the Winchester, KY Beer Cheese Festival. I also had the pleasure of leaving all my vote tickets in your booth. I do hope you won.
Mae from Lexington, KY
I love the cheese especially in Grits.... Beer Cheese Grits you can only get the best with Weisenburger and Howard's Creek.
Bill, CA
I got the beer cheese today. Can't wait to serve it for Kentucky Oaks Day! (Had to sample some for myself! It was great!)
Ann Royalty Peel
"Great job pretty lady!!! Kick some beer cheese butt cuz I know ya will. Best Beer cheese around folks!!! Love Ya"
Matt, Nicholasville, KY
The best I ever had...goes great with another KY favorite... KY Hot Brown. Make according to directions and top with Howard's Creek.
Love it in my white chili!
Stir it in your white or red chili or any soup for a great flavor.